Our shop has multiple pieces of equipment to ensure we can properly and professionally care for your knives. 
We are a family run, owner-operated business. Quality and customer service are our main focus and nothing leaves the shop without our eyes on it.
We offer loaner chef knives, while yours are gone, so you're never empty handed.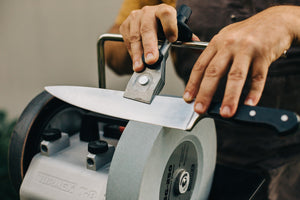 WHY PROFESSIONAL KNIFE SHARPENING?
Everything about having a sharp knife enhances the kitchen experience...no matter what caliber of cook you may be.
A sharp knife is MUCH safer than a dull knife.
It removes the need for excess force by allowing slicing instead of stabbing or slipping.
Sharp knives make for faster, easier prep with less food waste.
is better for your food...fresh herbs will release more of their aromatic oils, delicate fruits and vegetables will retain their juices better and the texture and flavor of meat will be preserved when carved.