These handmade knife rolls are custom made for Knife Flight. If they show as sold out, it is temporary and more are coming. You can either go ahead and order and we'll contact you about the ship date. Or add your name to the form below and we'll let you know when they are back in stock.
Details:
Holds up to 4 knives. Handmade in Hood River, Oregon by ND Designs. Roll is 15.5" long and unrolled is 13.5" wide. 4.5/5.0oz. Veg. tanned cowhide from Wickett & Craig (PA.-USA). 18oz. Waxed Canvas. Solid Brass findings. Waxed poly cord from Ritza. Leather is hand stitched. Canvas is machine stitched.
Care and Feeding:
Please use wood or plastic blade guards. This roll is constructed of very heavy duty leather - however it is no match for the precision sharpening that Knife Flight provides. The guards should prevent the user from putting a hole in the knife roll or their finger(s). Occasional treatment with the user's preferred leather conditioner will prolong the life of the product. For the canvas, just wipe down with a warm rag if needed.
Warranty:
You break, ND Designs fixes - this applies to stitching and hardware. If you stab a sharp knife through the roll, we can't help you, sorry (see note above).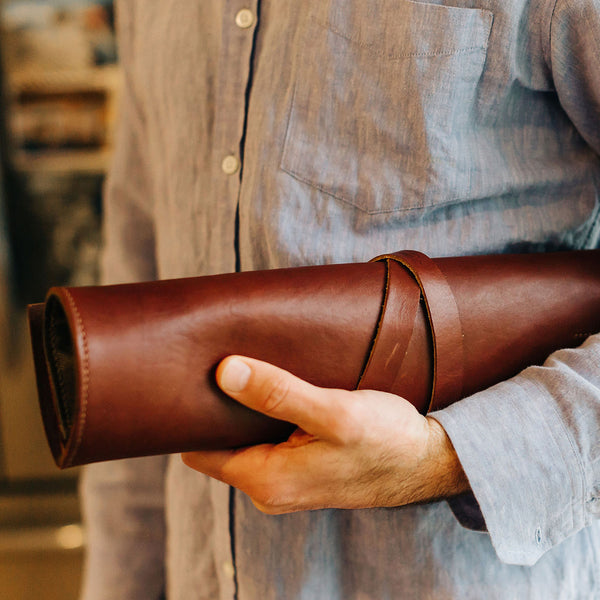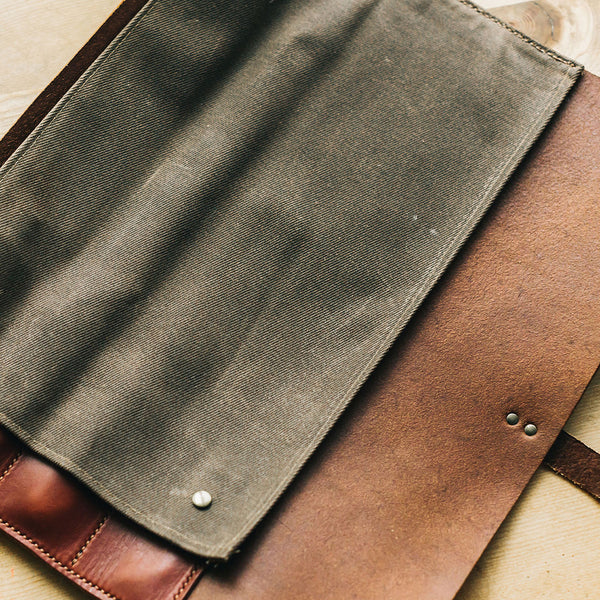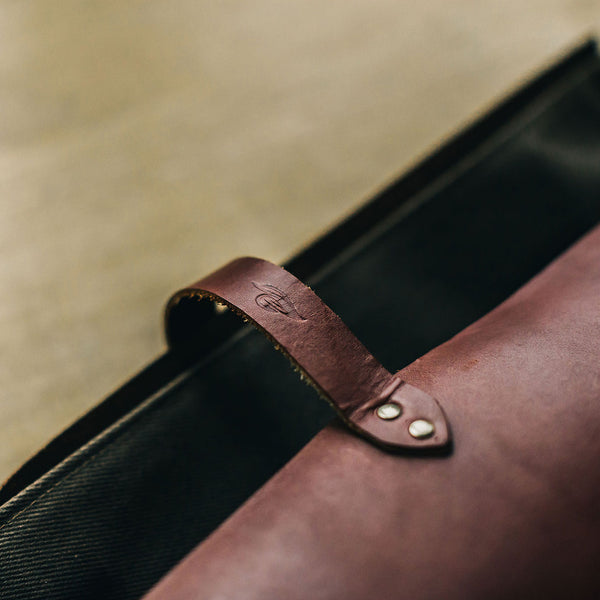 Custom leather knife roll
We bought the leather knife roll with 3 knives last year and we absolutely love everything about them! The craftsmanship on the leather roll is brag worthy! We take this on all sorts of trips whether it is camping, traveling in the camper, or airbnbing...because we all know the knives at vacation rentals are the worst! I have several people in mind for giving this as a gift. Also Jess and Kyle are the best! They do wonderful, prompt and professional work. We will be sending our knives there regularly for routine sharpening.
Leather Knife Roll
This roll is gorgeous and so unique! I love how safe and secure my knifes are. This beautiful genuine leather roll makes it so easy to transfer them from home to our RV and back again with out the need of having 2 sets of knifes!
Cheers to sharp safe knife travels!
Perfect travel companion
I love my knife roll! I keep it in my camper van, and it protects my knives from banging into things while driving around. The leather is both gorgeous and utilitarian. It feels very decadent to unroll it on a picnic table and have access to sharp knives when camping!
Beautiful and Perfectly Functional!!
I love having something to keep my sharp knives protected, and this handmade knife roll is so beautifully crafted! High-quality service and product.
Love our Leather Knife Roll!!!
Absolutely love the Leather Knife Roll. Both the knives and the roll are of excellent quality. Has the feel of something that will just get better with time!